San Antonio & Aransas Pass Railway
Passenger Operations
by Bill Roberts
Here is a brief discussion of passenger operations on the San Antonio & Aransas Pass, based on SAP timetables in various Official Guide issues.
1893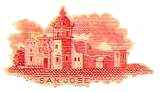 Mission San Jose on a SAP annual pass (Bill Roberts collection)
Trains leave each morning from all ends of the SAP: Waco, Houston, Corpus Christi, and Kerrville. Trains 1 and 2, San Antonio-Houston, provide the backbone of service on the SAP. The Official Guide shows Waco-Corpus Christi Trains 31 and 32. Between Kenedy and Yoakum the four trains show the same arrival and departure times, so it is likely that they operated as 1-31 and 2-32.
Service on the Alice branch and the Lockhart branch is timed to meet mainline trains at Skidmore and Yoakum, respectively, except that the Alice trains do not run on Sundays.
Yoakum, a meal station, is the center of passenger activity each afternoon:
The eastbound train from San Antonio and Corpus Christi arrives in Yoakum at 1:55 P.M., and the westbound train from Houston arrives at 2:00 P.M., both for twenty minutes.
The train from Waco, No. 32, arrives at Yoakum at 2:00 P.M. and returns to Waco twenty minutes later as Train 31.
A train from Lockhart arrives in Yoakum at 1:30 P.M. and returns to Lockhart at 2:20 P.M.
Later in the afternoon at Kenedy, 59 miles west of Yoakum, Train 2-32, stops. San Antonio passengers proceed on Train 2 and Corpus Christi passengers continue on Train 32.
During this period the SAP carries the San Antonio sections of Missouri-Kansas-Texas (MKT) Trains 1 and 2 between Lockhart and Luling, 15 miles. Lockhart is on the MKT's Smithville-San Marcos branch, and at Luling the SAP crosses the GH&SA's Sunset Route. This movement is shown on the MKT timetable but not on the SAP timetable. (Between Luling and San Antonio, 55 miles, the GH&SA handles the MKT cars.)
1911
The SAP provides the same basic daytime service as it did twenty years earlier, except that Kerrville-San Antonio service is a separate train. All four day trains continue to cluster in Yoakum, the first arriving at 1:20 P.M. and the last leaving at 2:10 P.M.
Passengers between San Antonio and Corpus Christi have a choice of either morning or afternoon departures for the six-hour trip.

Pullman service is provided between San Antonio, Houston and Corpus Christi on the Davy Crockett, called "The Train That Is Always On Time." Its average speed is a restful twenty-four miles per hour. San Antonio travelers headed for Corpus Christi sleep on a siding at Kenedy from 12:30 A.M. to 5:00 A.M. until the westbound train from Houston arrives, drops off its Corpus Christi sleeping car, and hurries on to San Antonio. The cars from San Antonio and Houston are then coupled and hauled to Corpus Christi for arrival at 9:00 A.M.
The timetable notes obligingly that passengers on the Waco line can make better time to and from San Antonio by traveling by way of the GH&SA's Sunset Route for the Flatonia-San Antonio portion of their trip.
1913
The SAP adds parlor car service between San Antonio and Corpus Christi and adds Pullman service on night trains between Waco and Corpus Christi.

The Davy Crockett also carries a San Antonio-Brownsville Pullman that travels beyond Corpus Christi on the St. Louis, Brownsville & Mexico Railway. At this time the Houston-Brownsville StLB&M is a part of the St. Louis-San Francisco (Frisco), which is controlled by Benjamin F. Yoakum. By coincidence, Yoakum had been the SAP's Traffic Manager when the SAP built its line from Kenedy to Houston in 1887-1888. The town of Yoakum is named for him.

Elsewhere, in a move that would have a big impact on the SAP, the San Antonio, Uvalde & Gulf Railroad (SAU&G) lays about 200 miles of track south and west of San Antonio, terminating at Carrizzo Springs and at Uvalde. Its Official Guide entry contains the note: "Under construction to the Gulf of Mexico, a distance of 135 miles additional."
1923
Pullman service continues between San Antonio and Corpus Christi. Also, the SAP continues to run a day train and a night train between San Antonio and Houston, connecting with Corpus Christi trains at Kenedy, but the timetable omits any reference to Pullman service, and the name Davy Crockett is gone from the Official Guide. The SAP uses a rail bus built by Four Wheel Drive Auto Co. on the Kerrville branch. Despite these apparent cutbacks, the SAP operates service on all lines.
The SP runs day and night trains between Dallas-Fort Worth and San Antonio on SAP Giddings-Flatonia tracks, 38 miles.
By now the SAU&G, even though broke and in receivership, is competing between San Antonio and Corpus Christi with the SAP. It has taken over from the SAP the San Antonio-Brownsville Pullman service via the StLB&M. In addition, while the SAP timetable no longer promotes parlor cars on the two day trains between San Antonio and Corpus Christi, the SAU&G does provide parlor car service on the single day train that it ran between the two cities.
1932
The SP leases the SAP in 1925 and two years later completes the line from Falfurrias to McAllen and to Brownsville. Passenger service on the former SAP assumes a San Antonio-Brownsville emphasis, thanks to the overnight Border Limited, Trains 313-314. There is a Houston-Corpus Christi section, Trains 303-304, that run by way of Beeville and Victoria. The four trains pass between Beeville and Skidmore between 1:30 A.M. and 2:45 A.M. to trade cars.
San Antonio-Kerrville service is a mixed train. A motor provides service between Waco and Yoakum. It is still possible to travel between San Antonio and Houston by way of Kenedy and Yoakum, but the SP timetable does not provide direct service or good connections. There is Rockport mixed train that runs to and from Sinton on the StLB&M.
The SAP had run a train each way between Lockhart-Luling-Gonzales-Shiner-Yoakum. The SP abandons the Luling-Gonzales segment but continues to run Lockhart-Luling and Shiner-Gonzales mixed trains. Patrons wishing to travel the gap between Gonzales and Luling can go by way of Harwood on the Houston-San Antonio main line.
The SP continues to use the former SAP route between Giddings and Flatonia for the overnight
Lark
between Dallas and San Antonio, but the day train is gone.
The StLB&M and the SAU&G have been parts of the Missouri Pacific (MP) since 1925. MP service between San Antonio and Corpus Christi consists of one day train and one night train. The night train continues Pullman service between San Antonio and Brownsville to compete with the Border Limited.
1938
The Border Limited ceases direct Pullman service between San Antonio and Corpus Christi, but it keeps its San Antonio-Brownsville Pullman. It also retains Corpus Christi-Houston cars.
Service continues between Waco and Yoakum, but the train is not identified as a motor. A motor with an air-conditioned coach continues to run between Kenedy and Houston. A mixed train continues to run between San Antonio and Kerrville. However, the SP no longer offers mixed trains between Lockhart and Luling, between Shiner and Gonzales or between Sinton and Rockport. Another train that disappears is the Dallas-San Antonio "Lark" that had used former SAP tracks between Flatonia and Giddings.
1943
SP service between Kenedy-Houston and Waco-Yoakum is unchanged. The SP drops the mixed train between San Antonio and Kerrville. The Border Limited's Brownsville-San Antonio sleeper is now a St. Louis-Brownsville Pullman via the MKT north of San Antonio. Any travel on the original SAP line between Corpus Christi and San Antonio requires a change of cars at Beeville in the middle of the night.
1954
Elsewhere the SP provides transcontinental Pullmans between San Francisco and New York City and between Los Angeles and Washington, D.C., but all traffic on the lines of the former San Antonio & Aransas Pass is, alas, for "Freight Service Only."
Source
The Official Guide of the Railways. A compilation of timetables. Ticket agents used it to route passengers to their destinations from its first issue in 1868 until Amtrak. Its monthly issues are a graphic history of railway development and the rise (and fall) of rail passenger travel .