1916
| | | | |
| --- | --- | --- | --- |
| Model: | "Six-36" | "Six-38" | "Six-46" |
| Cylinders: | 6 | 6 | 6 |
| Horsepower SAE: | 22 | 23 | 29 |
| Wheelbase: | 112 | 117 | 124 |
By the middle of 1915, Paige-Detroit dropped its last two four-clinder cars. The company got a jump on the 1916 model year with a new, small six-cylinder car, the "Six-36" five-passenger touring car. The new "Hollywood" cost only $20 more than the "Four-36" Glenwood six:
"Six-36"

Touring car, five-passenger, Hollywood $1,095
This new car had a 112 inch wheelbase and 32 inch wheels with 32 x 4 tires. It had a double set of brakes on the rear wheels that expanded internally and contracted externally on 12 inch steel brake drums.
At the beginning of the 1916 model run, the "Six-46" line of eight models was unchanged from 1915.
"Six-46"

Cabriolet, three-passenger, $1,600
Coupé, three-passenger, $1,700
Roadster, three-passenger, Meadowbrook, $1,395
Sedan, seven-passenger, $1,900
Touring car, seven-passenger, Fairfield, $1,395
Town car, seven-passenger, $2,250
Fairfield 6-46 brochure (Reynolds-Alberta Museum)
By the time the January, 1916, auto shows opened the the Hollywood "Six-36" had been replaced by the Fleetwood "Six-38" and additional models were added:
New Paige Fleetwood 6-38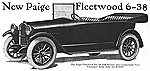 Fleetwood
The latest addition to the Paige line is known as the Fleetwood model Six-38, selling for $1,050, with roomy five-passenger touring body. The block cast six-cylinder engine has bore and stroke of 3-1/8 and 5 inches, respectively, and is designed to develop 38 h.p. under normal conditions of service. A removable cylinder head is fitted, the bottom portion of the crankcase is formed of sheet steel and the engine, with the transmission and clutch, forms a unit power plant. The multiple disc clutch, which is enclosed in the flywheel, is provided with thirty-six cork inserts in each of the seven driving discs and the three-speed selective clutch gears and shafts are of chrome nickel steel, heat treated and accurately ground. The shafts are carried on double row New Departure ball bearings and Hyatt roller bearings and the transmis- sion is enclosed in an aluminum case.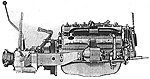 6-38 Engine
Engine lubrication is by combination splash and force feed, the actuating plunger pump being operated from the camshaft and forcing oil to main bearings and helical timing gears. A centrifugal pump operates the cooling system, the zigzag cellular radiator has a capacity of four and a quarter gallons and the fan is mounted on ball bearings.
Starting and lighting are taken care of by the Gray & Davis system with separate starting motor and lighting generator, the latter having an automatic electrical cut-out. A Remy high tension igntion system is standardized and a Willard six-volt storage battery forms part of the electrical equipment.

6-38 Flywheel View
The front axle is of orthodox I-beam section, drop forged and heat treated, with ball bearing spindles and both differential and shafts of the rear floating axle run on Hyatt high duty roller bearings. The propeller shaft is enclosed in a concentric tube which takes drive and torque strains. Internal expanding and external contracting brakes operate on twelve-inch rear wheel drums and the cantilever rear springs are of ample length to insure comfortable riding. The steering gear is of Jacox irreversible screw and split sleeve type, adjustable for wear, the steering wheel is formed of one piece with corrugated inside edge and the gravity feed gasoline tank of fourteen gallons capacity is located under the shroud dash. The Rayfield carburetor is fitted with hot air intake tube and dash adjustment.
The standard finish is Paige-Richelieu blue with straw colored wheels and nickel trimmings. Regular equipment includes Gray & Davis headlights with dimmers, electric tail light, electric horn, etc.
The Horseless Age Magazine, May 1, 1916
| | | |
| --- | --- | --- |
| | | |
| 6-38 Fleetwood | 1916 Touring, Steve Hotz collection | 6-46 Fairfield |
By July of 1916 certain relatively insignificant modifications had been made in both series. Prices were raised about $80 on the larger cars but only $40 on the smaller ones.
Paige cars continued to be quite popular. According to advertising copy, "In spite of the fact that our huge new factory has already been trebled in capacity; in spite of the recent installation of the most complete and modern factory equipment in the motor car industry; in spite of the fact that we have doubled and trebled our production in the last year and a half, we are still fighting that ever swelling demand."
The prospective owner was encouraged to heed the call of the open road and to let his local Paige dealer prescribe a cure for his troubles. Spring is in the air! What the harried businessman needs is a big, handsome, sturdy Paige Six-46! Nothing less will satisfy him; nothing more is needed by any man.
An ad that appeared in the September 1916 issue of Automobile Trade Journal referred to a climb on Mount Hood near Portland, Oregon. On July 10, 1916, a stock seven-passenger touring car climbed to a record height on the mountain. No car had ever succeeded in getting farther up the rocky and snow-clad side of Mount Hood than about halfway between Government Camp and the timber line.
This Paige managed in two days to proceed about three-quarters of a mile beyond the timber line. Once it passed Government Camp, "The car went on and up. The car, sheathed in ice, battled its way through snowdrifts, crossed a crevasse 2000 feet deep, toiled up 50 percent grades, and finally, before a sheer wall, stopped at an elevation of 9,500 feet above sea-level."
This event was staged by a Paige dealer who had the utmost confidence in the vehicle used. The results certainly proved the stamina of the cars, which in turn reflected well on the strength, character, and spirit of the whole Paige organization. The company's future seemed secure and bright, to be sure.
12,456 Paige Cars in 1916
Co. Has Monthly Turnover Equal to Its Capitalization
Detroit, Feb. 5 - The Paige-Detroit Motor Car Co., in its recent report, showed that it has manufactured 12,456 cars in 1916 up to Nov. 25 as compared 7749 cars for the year 1915 and 4631 in 1914.
The total sales for 1915 were $7,471,033.37, with a net income available for dividends of $609,775.87. Total sales for the 10 months ending Oct. 31, 1916, were $9,899,790.48, with a net income available foe dividends of $964,442.21. It now has a monthly turnover about equal to its capitalization.
In 1911 the authorized capital of the company was increased from $100,000 to $250,000, in 1915 to $500,000, in May, 1916 to $1,000,000 and again in September, 1916, to $1,500,000. This latter now has a common stock market value of $5,887,500. One thousand dollars invested in the Paige company in 1913 would now be worth $36,988.
The Automobile magazine, February 8,1917
| | | |
| --- | --- | --- |
| | | |
| 1916 Six-46 Fairfield. Leslie's, August 26, 1915 | 1916 Six-46 Fairfield. Leslie's, September 23, 1915 | 1916 Six-38 Fleetwood. The Youth's Companion, March 9, 1916 |
| | | |
| --- | --- | --- |
| | | |
| 1916 Six-38 Wiring Diagram. Motor Age, May 29, 1919 | 1916 Six-46 Fairfield. National Geographic, April, 1916 | 1916 Six-46 Touring Sedan. Literary Digest, September 23, 1916 |
Elsewhere in 1916:
Stoplights, rear-view mirrors and mechanical windshield wipers appear on some cars.
Work begins on a nation-wide coordinated highway system with the federal government matching state funds.
Dunlop develops the balloon tire for aëroplanes.